Mission Statement

As a school of choice, our mission at Clark-Shaw Magnet School is to develop students into globally aware and productive citizens who excel academically and are responsible, courteous, life-long learners. This will be accomplished by providing a challenging curriculum in a safe and nurturing environment.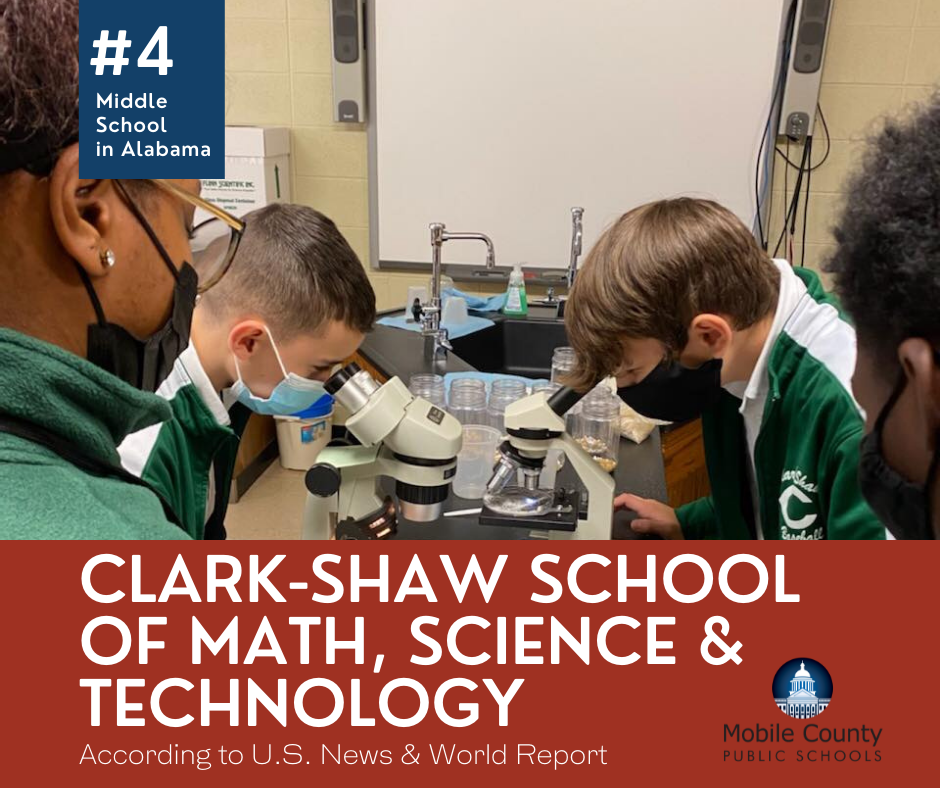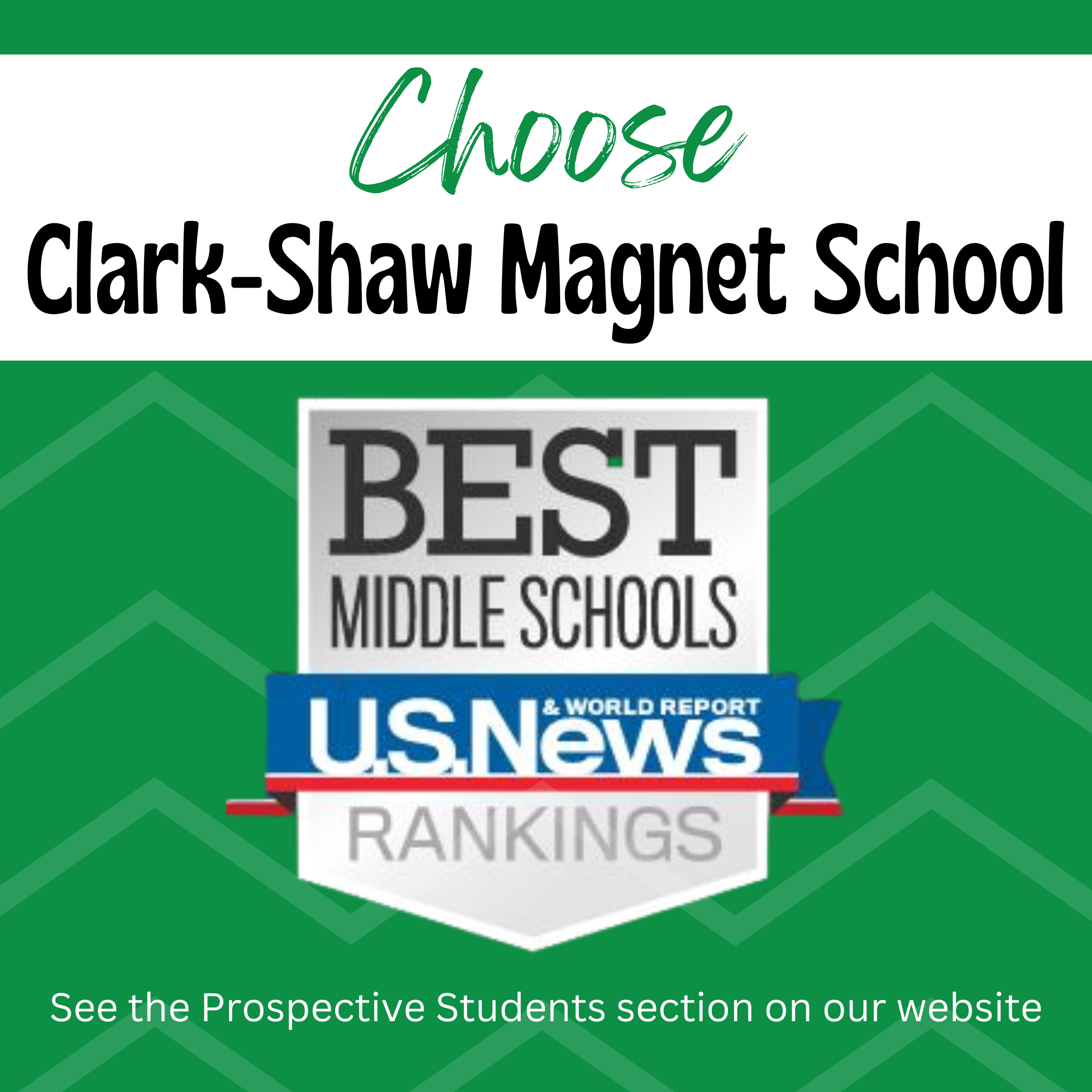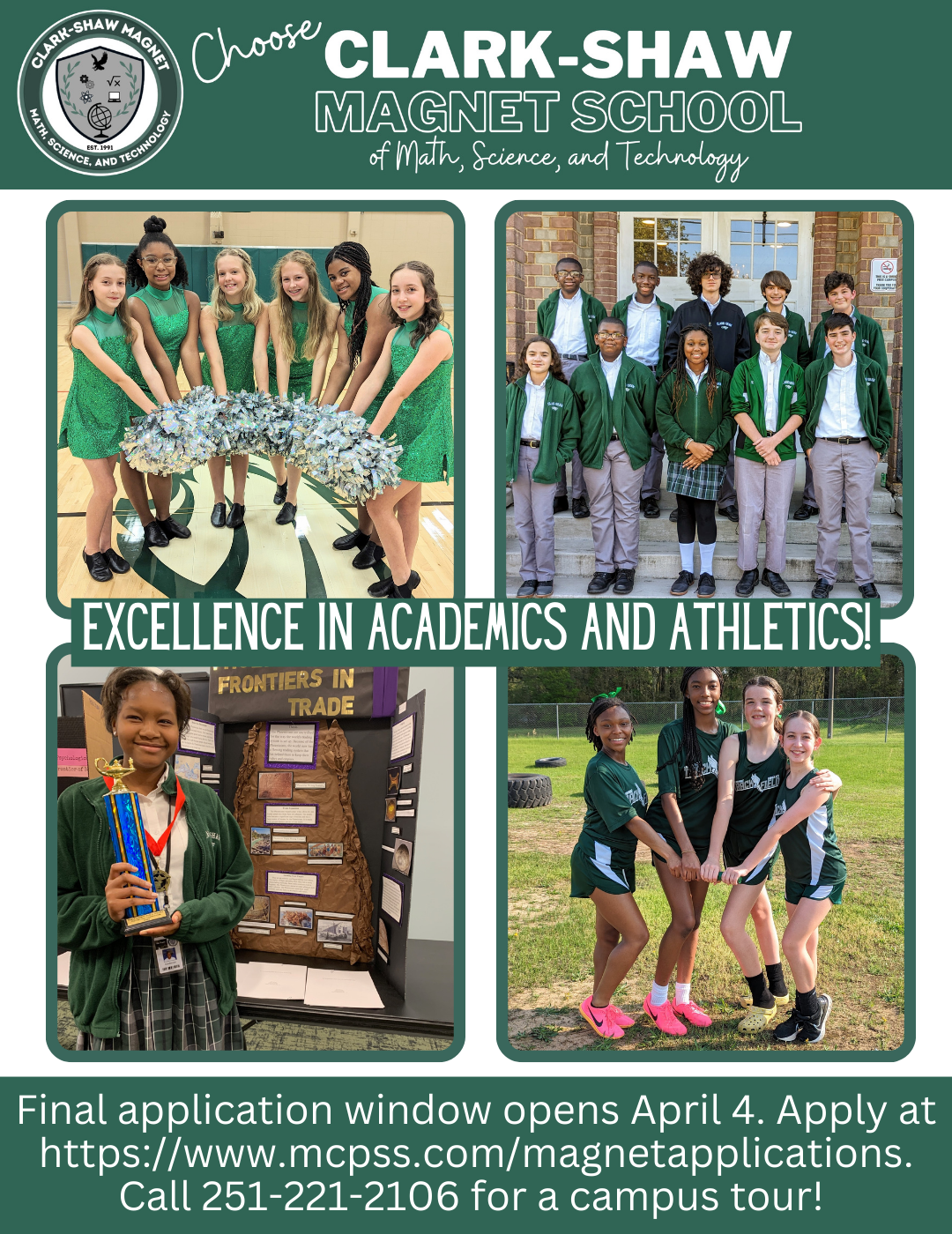 Clark-Shaw Magnet School of Math, Science, and Technology is an award-winning magnet middle school in Mobile, Alabama which excels in academics and athletics. We were ranked by U.S. News and World Report as the 4th best middle school in Alabama and the top-ranked middle school in Mobile County. We are a 2-time U.S. Department of Education Blue Ribbon School, the only Cognia-certified STEM school in southern Alabama, a CLAS School of Distinction, and an Alabama Bicentennial School of Excellence.
Clark-Shaw Magnet School serves approximately 600 students in grades 6-8 with an accelerated curriculum and a culture of high expectations for academic excellence. Our students have been recognized at the local, state, and national level in academic competitions such as Science Fair, History Day, and the national French exam. Elective course offerings include Honors Biology, French, and Spanish (all for high school credit); Project Lead the Way, Design and Modeling, Automation and Robotics, Forensics, Medical Detectives, Visual Arts, Broadcasting, Computer Essentials, Computer Science Innovators and Makers, STEM, GEMS (Girls in Engineering, Math, and Science), and Robotics.
In addition to a commitment to rigorous, hands-on, and inquiry-based learning, our school also offers a vibrant student life and extracurricular program including competitive sports (basketball, football, volleyball, soccer, cheerleading, track, softball, baseball); dance; band (beginning, intermediate, advanced, and jazz band); archery; and other student-led organizations such as Student Council, Ambassadors, National Junior Honor Society, Scholars' Bowl, Science Bowl, Yearbook, Eagle Wings, Eagle Eye News, Fellowship of Christian Athletes, WOW, and Robotics.

If you are looking for an academically challenging middle school experience that allows you to reach your full potential as a student, join our Eagle family and choose Clark-Shaw Magnet School!
To schedule a tour, please call 251-221-2106.